FAQS
What is the Year of the Youth?
Our 2021–22 season will focus heavily on the youth. To register your youth, go to the Join Us page and select your location.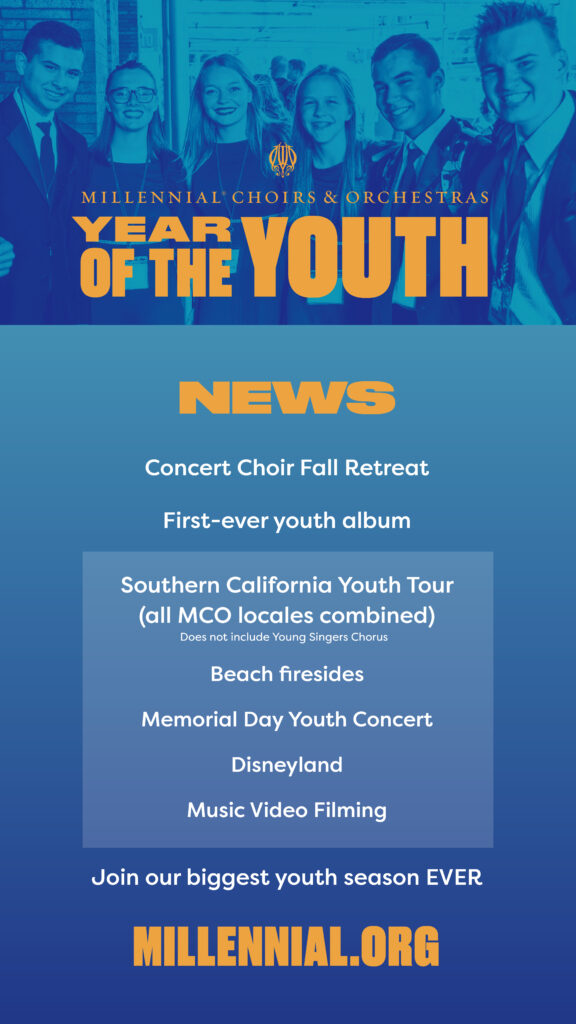 ---
What is the plan for Part 2 of the current semester?
Current participants are already enrolled and do not need to re-register.
All dates, plans, and timelines are subject to change:
Beginning mid/late April: 5–6 IN-PERSON CHOIR REHEARSALS in Arizona, Texas, Utah, Idaho, and, hopefully, California. MCO Across America (MCOA) remote participants and participants of any locale who are not comfortable meeting in person will continue to have access to rehearsals on video.
Friday & Saturday, June 18 & 19: All of MCO will combine for an in-person, outdoor concert with evening performances in the outdoor arena at the Spanish Fork Fairgrounds in Utah. The concert is open to all participants (including MCOA) who sign up by the deadline. Information about signing up is coming soon. Participants are responsible for their own travel and accommodations and must be in Utah County by Friday morning for a concert rehearsal, then available all day Friday and Saturday.
---
Can I register for Part 2 even if I didn't participate in Part 1?
YES! New participants can join us for both Part 2 and the summer concert. Participants joining for Part 2 will have to pay the full semester's tuition/fee and will not have access to the seven video sessions from Part 1. Any new youth are welcome to join, but Grand Chorus and Orchestra must have previously participated in MCO and must submit an audition video by the middle of April (each locale will have their own specific deadline).
Registration for Part 2 of the current semester closes April 30.
---
What if I can't attend the in-person rehearsals?
Weekly video sessions will be made available for all remote participants and participants of any locale who are not comfortable meeting in person. There will be different sessions created for each choir ensemble (Young Singers Chorus, Children's Chorus, Youth Chorus, Concert Choir, and Grand Chorus) every week. Each of these ensembles pay tuition/fees to participate.
Each week's materials will be emailed to you on Thursday. You will receive a link to your ensemble's video (and the accompanying password), as well as any additional materials the conductors may want to include. There will be a separate video and accompanying email for each ensemble, so if you have family members registered to participate in multiple ensembles, you will receive multiple emails.
---
What if I don't receive the weekly email?
Check your spam folder first. Be sure you have checked your settings to allow emails from "noreply@millennial.org." We recommend setting a filter to send all emails from that address to your inbox. Contact registration@millennial.org for further assistance.
---
What about orchestra participants?
Orchestra participants will receive music to practice and prepare for the summer concert. There may be an in-person rehearsal. Instrumentalists do not pay tuition/fees to participate.
---
What performance attire is required for Part 2 of this semester?
Our formal concert attire will be required for anyone who desires to participate in the June concert.
Attire ordering information is located on the Participants Page. (The password will be emailed to you after you register.) General costs can be found on the Participation Information page.
---
When will registration open for the 2021–2022 season?
Registration for the 2021–2022 season is now open.
---
What is MCO Across America?
MCO Across America is our remote location, open to those who live outside our regular locales in California, Arizona, Texas, Utah, and Idaho. Remote participants receive the weekly video sessions via email. They will also have the option of traveling to and performing in the June concert in Utah. All participants will be responsible for their own travel and accommodations—MCO will not cover expenses nor find housing for anyone.
---
If I have more than one youth who would like to participate, do I need to register each of them?
Yes, each youth must be registered for their own ensemble, even if two of them are in the same ensemble.
---
Can adults audit the Grand Chorus weekly sessions to take advantage of the music education being offered but not actually be part of the ensemble?
Absolutely! The fee to audit is $100. No audition is required. Please register for the MCO Across America locale. Those who audit will not be eligible to participate in performances.
---
How do I register to participate?
Go to the Join Us page and select your locale.
---
I'm having trouble registering. What should I do?
Please contact registration@millennial.org with any registration questions.
---